Today, the office feature:
large open areas
collaborative workspaces with digital whiteboards
half a floor dedicated to hoteling
an executive lounge for strategic conversations and contract negotiations
a conference room that can seat 20 people around a table
an airy dining area and kitchen
An open custom-built stairwell – with metal railings that incorporate more than 1,000 pieces of welding – extends from the second to the fourth floor, further connecting staff throughout the building.
Transcard's headquarters also includes a dedicated room with a golf and hunting simulator, two wall-mounted arcade machines loaded with video games, an employee gym with steam showers in the locker rooms, boxing and Pilates studios, wine cabinets, liquor lockers, and lots of original artwork. Check out the entire gallery here.
The fourth floor of the building also includes a patio overlooking a Chattanooga park that recently underwent a $7 million renovation. The patio is ideal for listening to music events held in the park.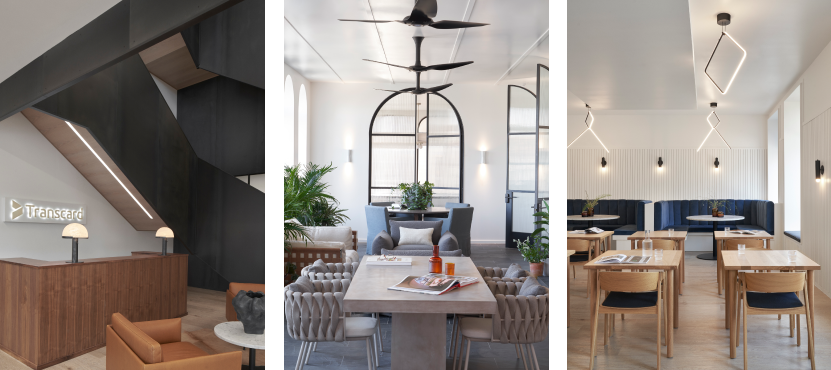 Committed to the Community
Reviving a city landmark isn't the only way that we're is investing in its community. Transcard is the Front Kit Sponsor for the Chattanooga Red Wolves soccer club. The Red Wolves unveiled their all-new 2021 Season Home and Away kits celebration in a nearby park immediately before Transcard's ribbon cutting. The Kit Reveal Celebration was open the public and included live music by Behold the Brave, popular musicians sprung from the mountains of Tennessee.
Founded in 2018, the Red Wolves is a founding member of USL League One professional league. Since the club's inception, the club launched the elite Chattanooga Lady Red Wolves of the WPSL, created two USL League Two pre-professional teams in Dalton and Park City, launched three youth academies, and began construction on Tennessee's first professional soccer-specific stadium.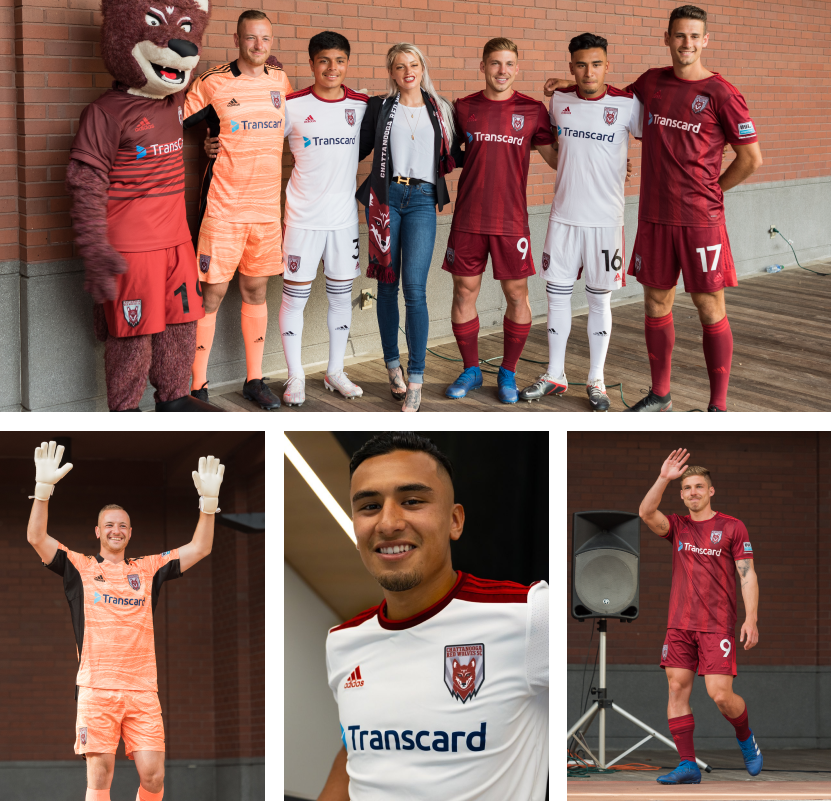 "Transcard is honored to support the Chattanooga Red Wolves,"

said Transcard President Chris Fuller.

"The team represents the spirit, drive, and diversity of our community. Transcard looks forward to joining our neighbors in cheering on the Red Wolves as they take the pitch this year."
Beyond Chattanooga, Transcard also has made a commitment to environmental preservation by joining the Priceless Coalition Initiative by Mastercard. The global payments technology provider also is a member of Mastercard's City Possible Initiative, helping municipalities innovate.
Growing Stronger
The ribbon cutting also was an opportunity for Transcard to celebrate its growth over the past year. During the past quarter, Transcard has achieved more than 90% growth year-over-year (YOY), and expanded its staff by more than 15 employees, including five individuals who are serving in leadership roles. Many new and long-time Transcard employees attended the event.
Transcard's strong growth is the direct result of surging demand for the company's innovative digital payments technology. The company recently launched an account-to-account (A2A) payments solution that allows for the touch-free exchange of payments and remittance data as well as an integrated payments solution that can be embedded in legacy software or ERP applications for streamlined payments disbursement and receipt via any payment method or payment network.
Transcard anticipates strong growth as banks and businesses accelerate their digital transformation initiatives and look for new ways to eliminate friction in their operations in the wake of the pandemic.
---
More Images From Transcard's Ribbon Cutting Ceremony Below