At a time when some businesses are questioning the long-term value of their offices, we've been busy settling into new headquarters in Chattanooga, TN. Our new office reflects the company's innovative spirit, demonstrates our commitment to the community, and gives us an edge in recruiting talent in one of the hottest technology regions in the United States.
Staying True to Company Values and Mission
Transcard is a global leader in payments technology. Over the past several years, the we've achieved average annual revenue growth of more than 40%. Our staff also is growing.
Today the company boasts more than 80 employees and is always on the lookout for more techies.
When it came time to look for new office space, our leadership drew on their experiences over the past five years in traveling an average of three weeks per month. The last thing they wanted was the type of commercial office space that you would find in a non-descript suburban office park.
There was a brief consideration moving the company's headquarters to Denver or New York City, both hotbeds of the type of tech talent we're competing for.
But the company's leadership quickly came to believe that the best fit for the new offices may have been under their noses the entire time – a flatiron shaped building that happened to be the oldest commercial building in Chattanooga.
A New Face for the Headquarter Building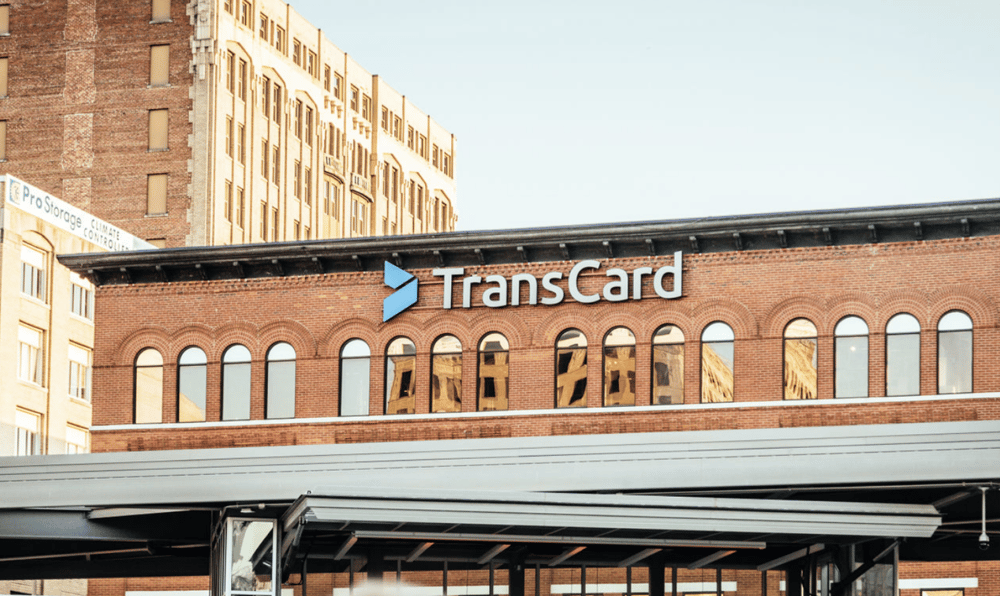 Originally built as a package transport station, and later used as a hotel, the four-story building that captured Transcard's imagination had been vacant for years, except for a well-known ground floor restaurant. Unused portions of the building were structurally decaying – a person could fall through the floors.
We soon embarked on a two-year, $4.5 million effort to transform the dusty building into a space that would foster the engagement, innovation, and collaboration the company's leadership believe are critical to Transcard's long-term success.
We spent a lot of time and resources carefully planning how the space should be used. We worked with an architectural firm from Nashville and a local interior design firm.
We wanted a cool, social house vibe, where uncomfortable boardroom meetings in suit jackets and ties are eschewed for laid-back conversations over on-tap nitro coffee (or maybe even a beer).
We opened the new headquarters in April 2020. The pandemic crushed the company's plans for an open house that was set to include the Governor of Tennessee and the Mayor of Chattanooga.
But the finished 25,000 square-feet of office space is still worthy of celebration.
When it came to utilizing their office space before the pandemic, most companies either provided each employee with a workspace that they were expected to use each day or they offered "hoteling" space that employees could use, on an as needed basis.
Teamwork and Collaboration Vital for Continued Success
We had a different vision. We wanted an environment that would support both a contingent of employees who worked in the office every day as well as staff who periodically came into the office to collaborate and engage with coworkers.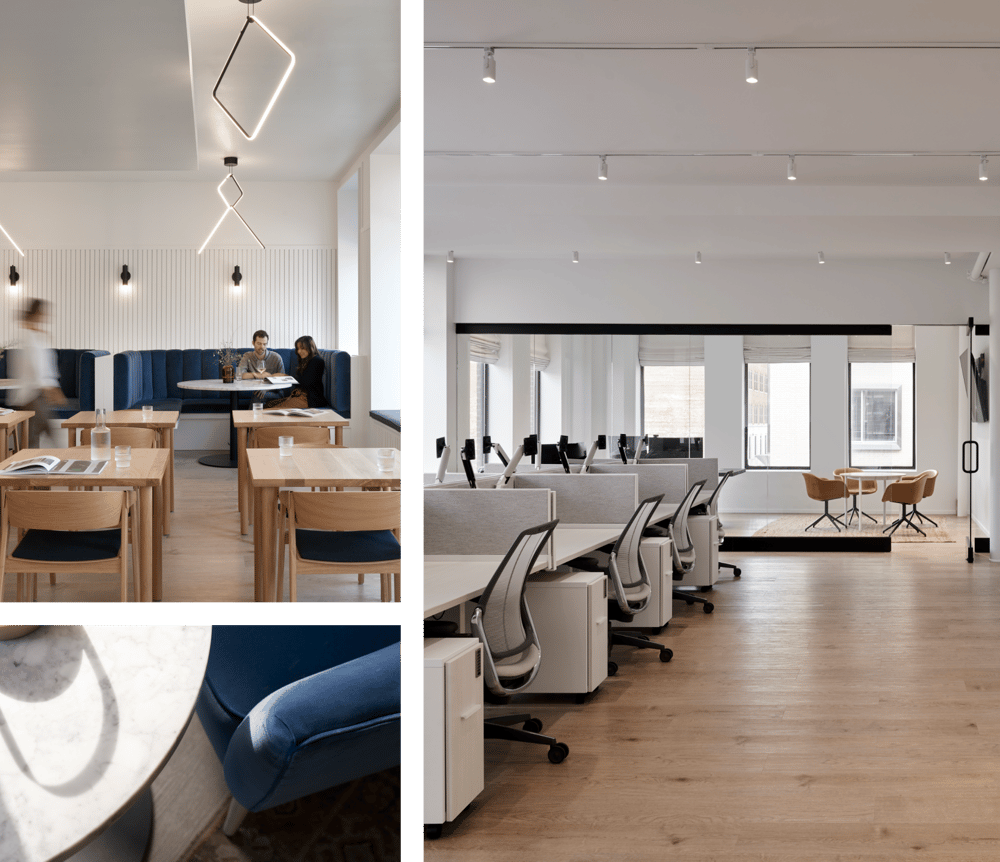 Throughout Transcard's offices, our vision of facilitating interaction between employees can be seen in large open areas, collaborative workspaces with digital white boards, half a floor dedicated to hoteling, an executive lounge fit for strategic conversations and contract negotiations, a conference room that can seat 20 people around a table, and an airy dining area and kitchen.
An open custom-built stairwell – with metal railings that incorporate more than 1,000 pieces of welding – extends from the second to the fourth floor, further connecting staff throughout the building.
Other companies may boast these types of collaborative elements in their offices.
But that's where the similarities with Transcard's headquarters stop.
Transcard's headquarters also includes a dedicated room with a state-of-the-art golf and hunting simulator, two wall-mounted arcade machines loaded with hundreds of video games, an employee gym with steam showers in the locker rooms, a studio for boxing and Pilates, wine cabinets, liquor lockers (well stocked with whiskey, of course) and lots and lots of original artwork.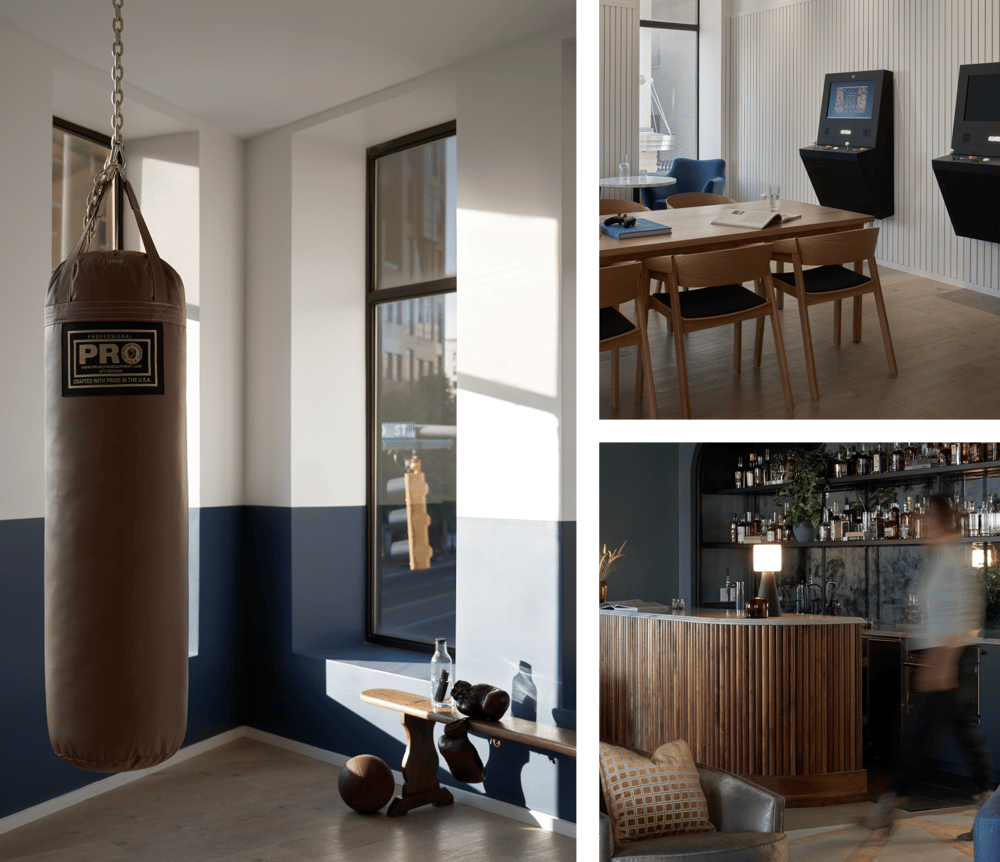 The fourth floor of the building also includes a patio overlooking a Chattanooga park that recently underwent a $7 million renovation. The patio is ideal for listening to music events held in the park.
Committed for the Long-Term to Build and Grow
If it seems like we went all out on its new office space, that was by design. We wanted to make our headquarters a "destination" for the employees – a place where staff wanted to hang out before, during and after work. And it is working.
During the pandemic, 10 to 15 employees came to the office every day to work, despite the company offering employees the option to Work from Home. Tellingly, one newly hired employee posted photos of the office space on social media.
The new office is paying immediate dividends. We're garnering more interest from students at nearby colleges and universities looking to intern at an up-and-coming technology company.
Transcard's new headquarters are indicative of Chattanooga's transformation over the past 10 years from an industrial city – once ranked among the nation's dirtiest cities – into a clean, high-tech city where residents cherish an outdoor lifestyle in the heart of Tennessee's mountains.
Chattanooga was the first city to lay fiber optic cable to every business and residential address, connecting citizens with high-speed Internet. It is only fitting that a technology company like Transcard would put its new headquarters in the middle of the city, in an old building tricked out with modern amenities.
What's an office space worth?
We believe the right workspace can make a company more innovative, collaborative, and competitive for top talent. That is what we have achieved with its new Chattanooga offices.