We are so excited about real-time payments in the U.S. It's the first new payments system in the past 40 years. Real-time payments infrastructures have been implemented in more than 50 countries internationally according to Aite Group, with more to follow in the coming years.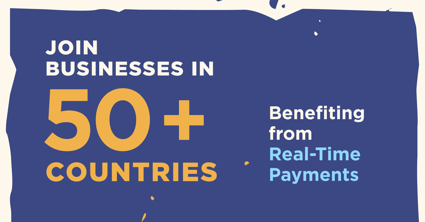 With the addition of the U.S. to the Eurozone member states of the European Union, most major financial centers can make instant payments, with money cleared in the receiving account in seconds.
Real-time Payments are digitally born, meaning that no one can touch the transaction from initiation all the way to settlement in any shape or form, which could be as soon as three to five seconds later.
The payments system was built to be a messaging system first and a payments system second. This means that the parties involved in the transaction have the ability, through API's and real-time connection, to communicate with each other. One party can request money from a payer, the payer can then accept and make the payment or not.
In addition, Real-time Payments are irrevocable and immediately settled so there is no need for after the fact reconciliation of bank accounts. There is also no concern that the funds that are paid out might be returned because the transaction is validated before the money actually moves.
(Laura McGortey, Director of Strategic Partnership Solutions at BNY Mellon, talks about real-time payments and their impact on payments capabilities for businesses worldwide)
---
U.S. dollar Real-time Payments takes everything from end-to-end and makes it totally digital and has the opportunity to streamline how business is done both nationally and internationally. There is a tremendous case for immediate payments for consumers, businesses, fintechs, regulators, and governments and these key players are driving the race to establish immediate payment infrastructures.
The drive for efficiency in terms of both cost reduction and increased straight-through processing rates remain a day-to-day priority for businesses and organizations in all industries, and the sooner it is addressed the better the business will run. And banks are realizing that failure to listen and respond to customers' demands creates opportunities for competitors.
Transcard leads the U.S. in both available financial technology and Open API's. Our partnership with BNY Mellon to bring Real-time Payments to the U.S. for both domestic and cross-border payments is opening gateways for business that were previously unheard of.
Let us know when you're ready to simplify your payments.