Good things happen when businesses invest in their community and help it flourish.
Employees are less likely to leave for another job.
Employees are more likely to share their employer's vision.
Employees are more likely to recommend their company to others.
Beyond its desire to give back to the community in which the company was founded and it has grown, these are some of the reasons that we're investing in Chattanooga, Tennessee.
Our Company's Roots in Chattanooga
Located in the heart of the Tennessee mountains, Chattanooga has transformed itself over the past 10 years from a tired industrial city – once ranked among the dirtiest cities in the United States – into a burgeoning technology hub known for its outdoor lifecycle and environmental friendliness.
Transcard mirrors Chattanooga's fresh, on-the-move vibe and focus on technology. In turn, as a leader in payments technology, we're committed to help and invest in Chattanooga's community: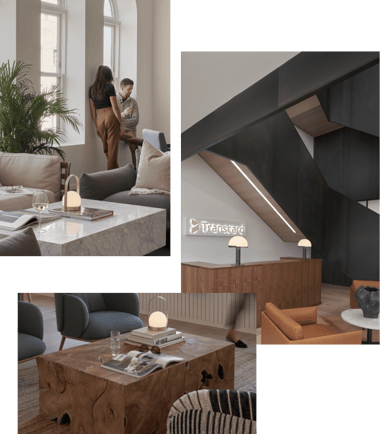 Building a Foundation as an Employer
We recently completed a two-year, $4.5 million project to transform the oldest commercial building in Chattanooga into a state-of-art, downtown corporate headquarters.
As an employer we are committed to offering opportunities to former military personnel. Over the past six months, the company hired six people from the military into middle management positions to instill additional discipline and adherence to processes within our fast-growing company.

Encouraging Local Initiatives and Events
We proudly sponsor the local Chattanooga Red Wolves Soccer Club (SC), which is building Tennessee's first stadium specifically for professional soccer. Transcard's logo is featured prominently on the front of the uniform the team wears as it competes across the country.
To build up the community spirit, Transcard plans to sponsor concerts at the city park near its corporate headquarters.


Giving Back
We, as a company, want to give back and support Chattanooga's Forgotten Child Fund, a charity started in the mid-60s by the late Chattanooga Police Officer Johnny Wright to bring joy to children in need.
Transcard employees have helped assemble lunches at a community kitchen.
Commitment to the Community
Transcard wasn't always this involved in its community. Some might say the fast-growing company was under the radar. But a few years ago, our leadership decided to change all that.
Doing good in its community has been good for Transcard, too.
Transcard's efforts to lift Chattanooga have caught the attention of in-demand workers across the Nashville and Atlanta regions, a hotbed of technology talent.
Chattanooga's intimate, vibrant vibe appeals to a growing number of workers, particularly those in the technology space, where resources are scarce.
Our company hopes to double its number of developers, and received more referrals over the past year of workers tired of the bureaucracy or venture capital headaches at larger employers.
As our company grows, we plan to extend its investments in Chattanooga and encourage new initiatives that help grow and flourish our community.
If you want to see more from our company you can take a virtual tour of our local office space.