Aite Group recently conducted a study to investigate which companies are strongest in Nonbank Money Transfer Platforms for B2C disbursements.
Transcard is pleased to have achieved Best-In-Class status, a highly governed and quantitative vendor evaluation methodology. Our omni-channel pay-in / pay-out platform with added workflows, robust Open API offering and user friendly customer portal have achieved this status for a plethora of reasons all tied to current capabilities, ability to lead and adapt moving forward, partnerships, and UX (user experience).
When selecting a fintech to partner with, features and functionality are important but should not be the only deciding factors. A robust and forward-thinking roadmap, knowledge of key market trends, and a culture that aligns with that of the customer should also be key deciding factors. Transcard leads in these arenas through strategic ownerships and partnerships, and always preparing for what end users will require before the expectation has been established.
The insurance, healthcare, gig economy, and marketplace industry verticals have been identified as large areas of growth by the Aite Group. Targeting these verticals and other key industries, along with appealing to potential bank partners that target these same verticals, is important for continued client adoption and market growth. Transcard leads again with partnerships with top banks to insure our clients receive a superior experience from the very beginning.
Banks and corporations want to partner with a vendor that has a deep understanding not only of B2C disbursements as a solution but also of the complex landscape of payments so that the solution will continue to evolve with continued innovations in payments technology, Transcard again leads the pack.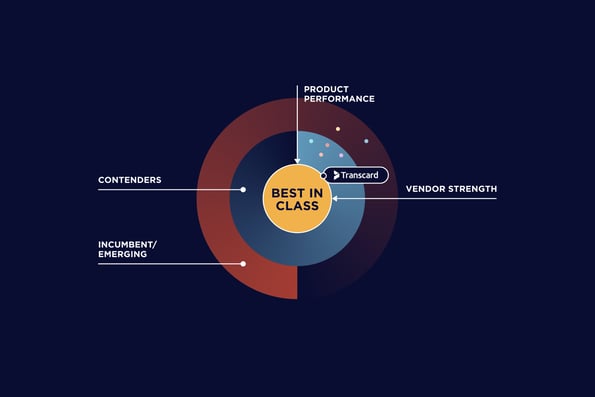 Data source: Aite Group Report on B2C Nonbank Money Transfer Platforms
Customer needs continue to demand more robust functionality, specifically around real-time payments, international capabilities, and third-party integrations. Transcard not only makes Real-time Payments possible, but to take the user experience to the next level with ease of receiving funds.
Transcard also takes great pride in its team. Our payment experts bring strong backgrounds in property management, transportation, the gig economy, property and claims insurance, healthcare, and other major industries.
This forward-thinking, diverse team utilizes their experience and expertise to work with our clients to create the experience they need to not just to better their payments, but to optimize them. The leaders at Transcard have established strategic partnerships to help companies all-size companies across the globe excel throughout their digital transformation.
At Transcard, we gladly accepted the invitation by Aite to be involved in the study of B2C Nonbank Money Transfer Platforms to learn what we can do better. And we did. And while we continue to evolve to serve our clients even better, we couldn't be more honored to learn that our users feedback, along with other credentials, landed us Best-In-Class in Aite's highly esteemed, highly governed, quantitative analysis. And for that we thank you!
Give us a call to see how we can help your business lead your industry through faster payments.