Although technology has simplified much of the property management experience, end of tenancy remains problematic. In particular, managers still must contend with the inefficient (and often contentious) security deposit refund process.
Even highly organized property managers are no exception. The documentation and financial requirements involved in deposit refunds raise the legal and compliance stakes for all landlords.
Regulations governing deposit refunds vary by state, too, adding more complexity. Some states require 14 days to return a deposit, others allow 30 days. Delivery of itemized deduction statements, property condition reports and fund release forms may be required. In peak move-in/move-out seasons, form delivery, tracking and communications can trip up even the most attentive managers. But in the event of legal action or a dispute, the burden of responsibility falls to property managers: can they produce records of compliant form and communication delivery, as well as payment return?
Trends Demand Deposit Refund Innovations
Few industries remain as untouched by useful payment innovations as property management. Consider this advice to property managers from one software company's recent blog:
"There should be two places for receipts: the computerized accounting system, and the handwritten deposit ticket for all of the payments. Copies of all checks should be kept, whether carbon or photocopied."
Wrapping software around a broken process is not the improvement that today's property managers need. Delivering better tenant experiences, improving cost efficiency, mitigating compliance issues, and reducing administrative backlog, requires real process innovation.
Paper Checks are Expensive, Slow, and Insecure
Researchers peg the cost of issuing a check at $10. This includes everything from manpower for approvals to depreciation on MICR printers and bank issuance fees. Consider error resolution efforts, too. The financial and opportunity costs of pulling transaction histories, reconciling accounting software, issuing stop payments and reissuing checks also are costly.
These activities direct resources away from top-line tasks like meeting prospects and scheduling showings. In peak tenant transition seasons, mailing and clearance wait times of 5-7 days may impact cash flow, too.
Paper checks offer virtually no security either. Unlike digital wallets and apps, a check is a goldmine of information for fraudsters. Name, address, banking institution, plus routing and account numbers are there for the taking. In some states, a driver's license number, tax ID or Social Security number is required for writing or cashing a check. Every person in the check chain of custody poses a security risk.
In a U.S. bill payment trends report, Aite Group concludes: "Checks are a major cost center […] they remain a pain point despite the decline in usage."
Modern Tenants Want Options
With Millennial and Gen Z home ownership rates at historic lows, rental markets are dominated by a younger demographic. Given this, property managers must adjust to new expectations around digital communication and payment options. One report notes that 84% of Gen Z are aware of alternative payments and are comfortable with in-app ones, mobile wallets and other online cash solutions. These are hyper-connected consumers with digital as their go-to transactional channel. Despite this, few property managers are equipped to accept non-check payments such as ACH direct deposit or real-time P2P.
With 75% of renters under the age of 45, simplified self-service, interactive and mobile transactions aren't just conveniences, but decision points for tenancy.
Winning PMs Focus on the "Experience"
Surging rental markets, modern amenities and shifting tenant demands pressure property managers to become "experience managers". Realtor Magazine highlights online payment adoption, text and mobile communication, and self-service tools as essential for improving tenant experience. Their research also identifies process automation as a focus area. The reason: reducing manual processes means more time for customer and prospect interaction.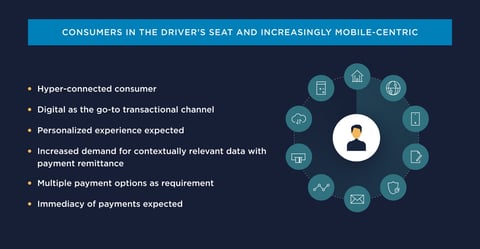 Other property management research finds that optimizing communications delivers a 47% increase in ROI. Tech-enabled tools delivering actionable and accessible information reduce relational friction, missed deadlines, late payments, extra paperwork and tenant conflicts. Above all, the research concludes, tenants want increased convenience.
A U.S. Consumer Payment Experience report concludes that 47% of consumers are extremely or very frustrated by wait times when refunds are due. Accelerating refunds and providing disbursement options are winning experience differentiators.
Focus on Refund Management Workflow
Eliminating paper checks and physical form signature and delivery are central to a positive tenant experience. They also mitigate cost and compliance risks for property managers. But few software platforms adequately service them.
For example, property management solutions may offer SMS, in-app communications or a tenant document repository but lack an actual disbursement workflow. Often, move-out process functionality stops at the point of check return. Managers still need to manually handle a paper check or collect release signatures.
To address this, Transcard recommends purpose-built property management solutions that provide secure self-service portals allowing payees to personalize their payment methods.
Within a solution, property managers can enable interactive messaging, attach data and lease documents and solicit digital signatures. Tenants can indicate a deposit preference, whether direct deposit or instant payment such as Mastercard Send.
Improving Future Experiences, Today
Tenants don't want paper checks. Landlords don't want wasted time and compliance headaches. Everyone wants to improve future experiences, today. Consider how refund disbursement innovation can solve these, and other, move-out issues within your property management business.