Payroll technology is one of the most widely-used tools for companies of all sizes. But there's still some confusion into what payroll tools businesses need. Payroll software is no longer enough. There are other tools that can improve efficiency. An Omni-Channel Payments Platform that can bolster business continuity, reduce costs, and improve employee safety and satisfaction.
Payroll Software vs. Payroll Disbursement Platform
Payroll software calculates paychecks based on salary or hours worked and withholds taxes and deductions from each employee's paycheck. Some payroll software solutions also include options for self-service so that employees can do things like easily change withholding amounts from a portal. Some also include payment automation, which reduces manual payment needs for salaried, hourly, or contingent employees. But automated payments are still typically dispersed via traditional check or direct deposit.
Unlike payroll software, a payroll disbursement platform doesn't calculate the amount of funds each employee should receive or withhold taxes or deductions. Instead, payroll disbursement focuses on sending money to those who have earned it.
Instead of limiting options to only checks and direct deposits, a payroll disbursement platform lets businesses customize the way payments are made.
They can use traditional checks, direct deposit, payroll cards, or virtual payments. Businesses can also use the platform to reward employees for high performance with incentive cards and gift cards.
Self-service tools for employees are included in payroll disbursement platforms, allowing each staff member to personalize their experience by selecting the payment method they prefer. Unbanked employees often opt for payments via card solutions instead of checks because they're more convenient, for example. Since checks are more expensive than card solutions, this saves the business money as well.
Payroll software solutions and payroll disbursements platforms can work hand-in-hand.
Benefits of an Omni-Channel Payroll Disbursement Platforms
Most companies implement payroll software to reduce errors and cut down on manual work. Because the software takes care of calculations and, in some cases, disburses payments, there's less chance employees will be paid incorrectly.
In addition to saving money by displacing checks, a payroll disbursement platform can reduce payment burdens on businesses. They do this through a SaaS platform that can reach employees remotely regardless of location. Employees also input their banking details directly into the disbursement platform, so businesses don't have to collect and store as much sensitive information.
The biggest benefit of payroll disbursement platforms, however, is regulatory compliance. The best platforms, like Transcard's best-in-class Omni-Channel Payments Platform absorb the burden of regulatory escheatment and PCI compliance, so businesses spend less time and money on staying up to date themselves.
Why an Omni-Channel Payments Platform is Best for Payroll Disbursement
There are many other reasons for organizations of all sizes to consider switching to and Omni-Channel Pay-In / Pay-Out Platform: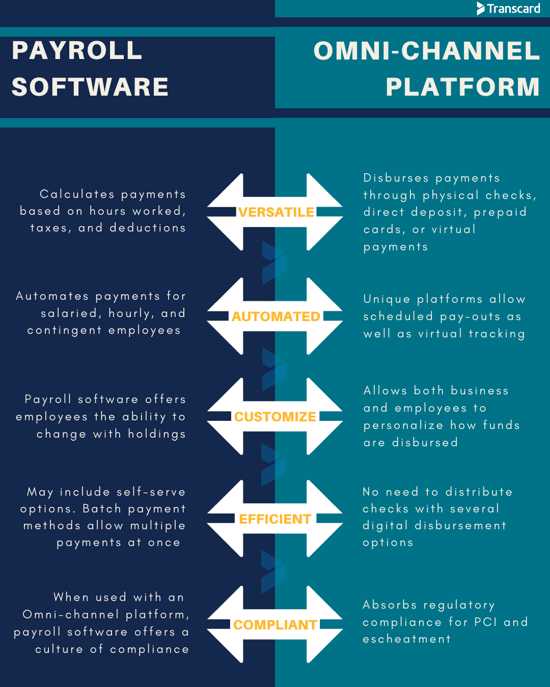 Versatility: An Omni-Channel Payments Platform offers the ability to pay employees based on what makes sense for them while managing payments all from one screen. Employees can elect to be paid digitally, and opting in during difficult times (like the COVID-19 pandemic) is a quick and easy process.
Automation: Previously manual processes become automated as payments can be scheduled and payments can be pushed all at once. No more issuing payments by type. And payment amounts can be modified up until the payroll is issued.
Personalization: Employees can choose what method of payment makes sense for them based on the companies choice of offerings. For some payees, checks may still be inevitable. But in many cases, employees are happy to be moving to ACH, payroll cards, and even virtual payments. This means that employees are getting paid by whatever means is best for them, increasing employee satisfaction.
Efficiency: Back offices are seeing huge improvements in issuing payroll by being able to schedule payments in advance, and then push all payments easily from one easy-to-use portal.
Compliance: An Omni-Channel Payroll Disbursement Payments Platform for payroll disbursement helps offload sensitive and regulatory information burdens for your company and enhances safety by limiting the parties who have access to sensitive information.
An Omni-Channel Payments Platform can simplify payroll, cut costs, and maintain business continuity regardless of circumstance. It is possible that governments may even mandate electronic disbursements for payroll to prevent another cash flow crisis for Americans like the one created by COVID-19. But whether digital payroll capabilities become a requirement or not, their benefits are needed now.
If your business is looking for a way to disburse electronic payments, Transcard wants to speak with you.