The United States has been inching towards a cashless society. Over the past decade, more businesses have become cashless, only accepting payment via card. The growth of cashless stores has gained so much steam that some cities have passed laws requiring brick-and-mortar retailers to accept cash, hoping to avoid disenfranchising unbanked consumers and other people without cards.
Cash represents just 26 percent of all purchases made by consumers, according to the U.S. Federal Reserve Bank. And many of the purchases that consumers make with cash total less than $10.
The Sudden Impact of a Global Pandemic
But the COVID-19 pandemic has opened a new front on the war on cash. Fear of handling virus-tainted cash has prompted many businesses in cities hard hit by COVID-19 to refuse cash payments.
Consider Dick's Drive-In, an iconic burger chain with restaurants located in the Seattle area. Shortly after the region became an early epicenter of the virus, Dick's Drive-In began hanging signs in its restaurant windows informing customers that it preferred to be paid with a card, rather than cash.
The jury's still out on the actual risk of contagion from cash. So far, the Centers for Disease Control and Prevention (CDC) has said that coronaviruses spread primarily from person-to-person contact.
But it's no surprise that many businesses are concerned that handling cash could speed the spread of COVID-19. Coronaviruses have been found to live on surfaces for as long as nine days. The WHO also has warned that that coronaviruses could survive on banknotes. The course and fibrous makeup of American cash makes it a seemingly ideal carrier for viruses.
In fact, the WHO cited a Bank of England study that found that banknotes can carry bacteria or viruses. The study recommended that people to wash their hands after handling cash.
While the U.S. Federal Reserve Bank hasn't issued its own thoughts on the safety of handling cash – it has deferred to the CDC – the Federal Reserve has reportedly been quarantining American cash repatriated from Asia for up to 10 days, to ensure its safety. This comes after the People's Bank of China last month started using ultraviolet lights to disinfect banknotes deposited at Chinese banks, and then quarantined the banknotes for a week.
Why Electronic Payments are Good for Businesses
Fears of infected money further buttresses the case for electronic payments in the minds of more business owners. Compared to cash and checks, electronic payments are less costly, easier to handle, faster, more transparent, and less prone to theft. Cashless businesses also don't need to spend as much money on cash protection services. But COVID-19 fears may trigger stronger adoption of electronic payments among businesses.
It's unreasonable to expect cashiers and other frontline staff to wash their hands each time they handle cash. Safely storing and transporting cash to avoid creating potential infection also is problematic; it's much easier to clean a plastic surface with an ethanol-based disinfectant than it is to clean cash. And no business owner wants to risk contributing to the spread of a potentially deadly virus in their community as a result of the way handled cash.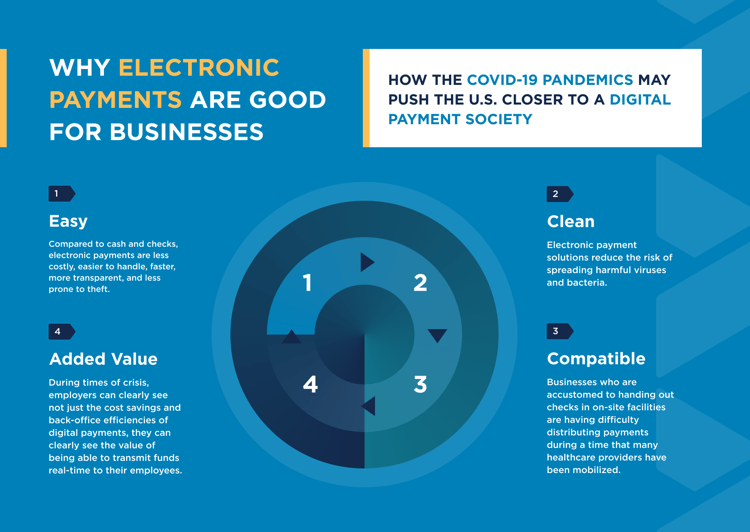 In its March 2020 Impact Brief, Aite Group notes that COVID-19 may push consumers toward payment methods that require the least physical interaction. As a result, consumers may choose to pay with a contactless card or mobile wallet, since those do not require contact with POS terminals.
Some governments may even mandate electronic payments to stop the spread of coronaviruses. In the bargain, the governments would benefit from higher tax revenues and potentially less corruption.
Electronic payment solutions reduce the risk of spreading harmful viruses and bacteria. For instance, the contactless technology and digital wallets supported by omni-channel payment solutions keep consumers away from devices that may be platforms for the new coronavirus.
Replacing Physical Checks with Digital Alternatives
The e-commerce capabilities in an omni-channel payment solution may increase the share of digital transactions, at the expense of cash, for consumers forced to stay at home during the pandemic. And payments made with a card are digitally reconciled; cash must be counted at the end of each business shift or day.
But it's not just germs that are facilitating this necessity to move to digital payments. Businesses who are accustomed to handing out checks in on-site facilities are having difficulty distributing payments during a time that many healthcare providers have been mobilized. Companies that service much of the equipment that is currently seeing a spike in use have employees gone for weeks at a time, making handing these employees checks difficult.
The same is true of those working more limited hours in manufacturing facilities. Even ACH solutions can take 2-3 days to land in a bank account, and for those who need to further transfer funds from there, the process is becoming a hectic one.
Better, Safer Payroll Options
Employers are demanding more of their employees whether it's in terms of loyalty during cut hours or happiness during escalated ones that are laced with inconveniences, and they need to lighten the load and increase employee satisfaction wherever possible.
Because of this, many employers are transitioning to payroll cards for employees and digital solutions for gig workers. During times of crisis, employers can clearly see not just the cost savings and back-office efficiencies of digital payments. They can clearly see the value of being able to transmit funds in real-time to their employees and because we are all now on the frontlines together, they can see the real impact this has on everyone.
Healthcare providers with employees on the road are implementing payroll cards to keep employees on regular schedule during a time where weekends don't necessarily mean returning home. They're also implementing travel cards to be able to keep those employees on the road longer while still maintaining necessary control of funds.
This means employees aren't worried about expense reports and which credit card to use while traveling, and their focus can be on the tasks at hand and that the business has the assurance that money is being appropriately.
Manufacturing facilities are no different- they are using digital payments to issue upfront bonuses and help to their employees during these difficult times. Those manufacturing facilities who have already implemented AP/AR digital payments have been aided tremendously in the cash-float time lost because they can receive payments quickly. Gig workers can prioritize the employees they are focused on working with based on who can get money in their hands in the most effective manner. No industry has been immune.
Embracing Digital Payments
Businesses across the world are embracing electronic payments. Sweden has gone virtually cashless and other countries aren't far behind. In the United States, cash is losing its grip on consumer purchases. Growing concern about the safety of handling cash during the COVID-19 pandemic is likely to be the impetus for more widespread adoption of electronic payments among businesses.
It is possible that governments may even mandate electronic payments to stop the spread of the virus and to proactively prepare businesses for unforeseen disasters in the future, which in turn takes care of their employees in a way that the government may not quickly be able to.
Omni-channel payment solutions – a single platform that supports inbound and outbound payments of any type, including credit card, debit card, contactless card and mobile wallet – make it easier for businesses of all sizes to begin accepting electronic payments, fast.
Open APIs facilitate the fast integration of an omni-channel payment solution with legacy systems. What's more, omni-channel payments solutions eliminate many of the reasons that businesses have historically cited for dragging their feet on electronic payments – cost, risk, complexity and concerns about customer adoption.